Exceptional quality crest engraved signet & wedding rings, pendants & cufflinks at affordable prices handmade by me in Hertfordshire England in Sterling Silver 9ct & 18ct Gold + Laser engraving
Welcome to Deloreanjewellery.co.uk
I am a semi retired signet ring and wedding ring manufacturer with over 40 years experience in jewellery design Silver signet ring manufacturing has been a passion of mine since the last 2 years at school and although I now have osteoarthritis making nice thick substantial Gold or Silver signet rings is still well within my ability. Nice thick signet rings are easier to handle than the rasor thin rings so often found via the internet and discount stores. Tiny ladies finger sizes like A or B , I can manage a 1mm to 1.5mm thick shank and 2mm thick head as a result I do not end up with thin centres after filing out the curvature as a result of making a big thin gold signet ring to many sizes smaller, a common error caused by money saving methods due to gold price .
Extra large size signet rings also are not a challenge, my signet rings are truly bespoke I do not cut an average mans signet ring in finger size R and put a section in with two joins, nor do I over use a stretcher, instead when necessary I will produce a new signet ring master pattern
any size up to Z + 6
often made without a single join.
As of May 2014 I am now the proud owner of a state of the art YAG GALVO FIBER laser engraving machine providing in house Crest signet rings and Coat of Arms engraved, extra deep initials, monograms & some of the most intricate and detailed family emblems, logo's and masonic rings.
I am possibly one of only a handfull of UK manufacturers who will make a 9ct or 18ct gold signet ring , pendant or cufflinks
from your own sentimental gold.
Please phone to check suitability, I have video's showing the process ensuring you get up to 100% your own gold included.
Sending me your own 9 carat or 18 carat gold jewellery for Crest or Coat Of Arms Engraving
There is one service I am reluctant to supply, namely general engraving on jewellery sent to me by non-trade clients.
Initials and the like you are better off going to your local jewellers however seldom able to supply Crest or Coat Of Arms engraving.
Any trade or non trade clients requiring my service may now take their own products to Just Castings Ltd in St Cross Street Hatton Garden
who will provide the service to you directly , and provide the over the counter Jewellery engraving service I am unable to supply myself.

Any returning customers who have previously had a stock item engraved (Heraldic) will automatically benefit from a considerable discount.



My Jewellery Workshop
Not an online shop selling products bought in from China or mass produced silver signet rings made by a bulk manufacturer in the UK. Every bespoke signet ring is handmade by me in person at my own bench in my own log cabin workshop in Hertfordshire England. If you phone I will answer, if you email I will reply. I do not entertain any clients at my premises as I have more than sufficient orders via internet for gold and silver jewellery EXAMPLES STAMPINGS & CASTINGS

Laser Engraving machine
May 2014 I took delivery of my new YAG GALVO FIBER laser engraving machine.
Now I am able to engrave in house Crest's, Coat of Arms, initials logo's and some of the most intricate design's previously impossible with my older Gravograph machines that I have owned and used for 30 years.

Contact Viv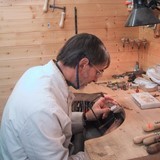 I do not keep regular hours like a high street shop, It often takes all morning before my medication kicks in after that I am glued to my bench and concentrating on manufacturing

Please phone between 8.30 am and 11 am or after 6pm in the evening if at all possible.

Emails I reply to usually same day CONTACT ME FORM
Customers Comments : Family Crest and Seal Engraved Signet Rings, Specialist Laser Engraving
Laser family crest and seal engraving, Hand crest and seal engraving, Masonic Square and compass , Clan Badges , Cufflinks , Pendants
Specialising in Sterling Silver signet rings and 9ct or 18ct Gold signet rings

TO SEE MY PREVIOUS CLIENTS COMMENTS AND FEEDBACK

Link above will take you to my comments and feedback pages, Please read before ordering and it is appreciated if you could add some comments after receiving your own order. This is not a forum, I will reject unrelated entries from email addresses I do not recognise

Once submitted I have the option to publish or not, I never edit clients comments, I publish every comment received regardless of good or bad